Narasimha Chaturdashi Celebrations 2021 – To propagate and make devotees imbibe this wonderful feeling of devotion to Narsimha Deva, 'Learn Gita Live Gita' along with the devotees from ISKCON Bhagwat Geeta Pathshala Dehradun, BGIS Vrindavan, ISKCON Ranchi, IIT Kanpur, and IIT Patna celebrated this auspicious occasion online on 25th May 2021 on a grand scale. All our activities physically are at halt outside due to pandemic but the devotion and love for the supreme in the heart of devotees can never be barred. This blog will unfold that transcendental feeling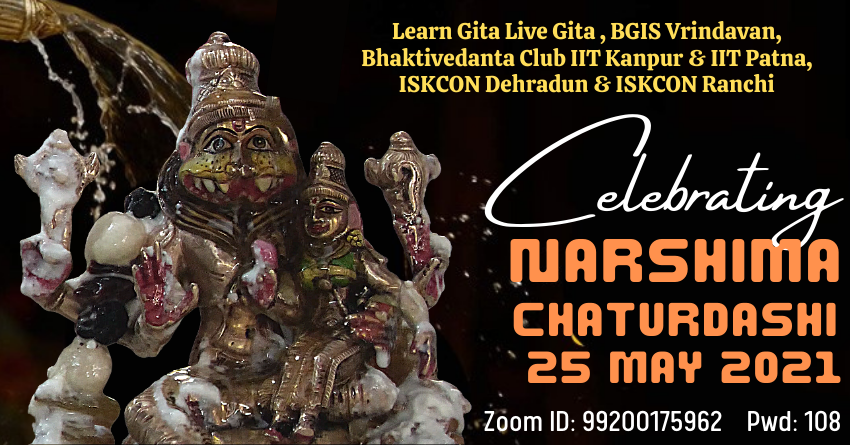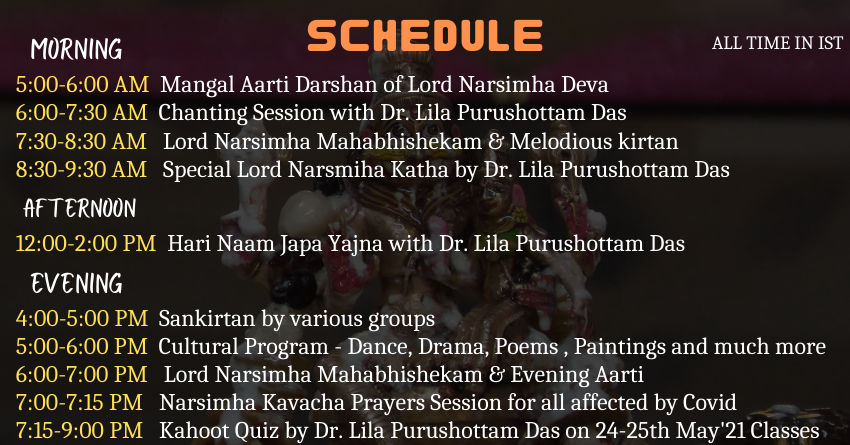 Appearance of Lord Narsimha
Lord Narasimha deva is the one who destroys the obstacles in the path of devotion. He is very kind and most merciful to his devotees. Lord Narasimhadeva appeared in the Shukla Chaturdashi of Vaishakh month(fourteenth day of the bright fortnight in the month of Vaisakha). His appearance day is celebrated by the devotees with great pomp and show to please Lord Narasimhadeva. They seek blessings from the Lord so that they can progress in spirtual devotion and achieve the highest aim of serving the Lotus feet of Sri Sri Radha Krishna.
His appearance and disappearance is inconceivable for us. As stated in Bhagavad Gita that he had appeared from his internal energy to protect his devotees and annihilate the Demons. We should always understand the tattva behind the appearance of Lord Krishna in the form of a common human or animal. His incarnation in the form of tortoise, fish, lion etc is divine and transcendental .
Amazingly Lord Narasimha Dev is one among the popular incarnation of the Lord. This pastime is revealed in the seventh canto of Srimad Bhagavatam . Narsimha means the one who has appeared in the form of half man and half lion, Lord Narasimha Deva has appeared to protect his dearest devotee Prahalad Maharaj from his demonic father Hiranyakashipu.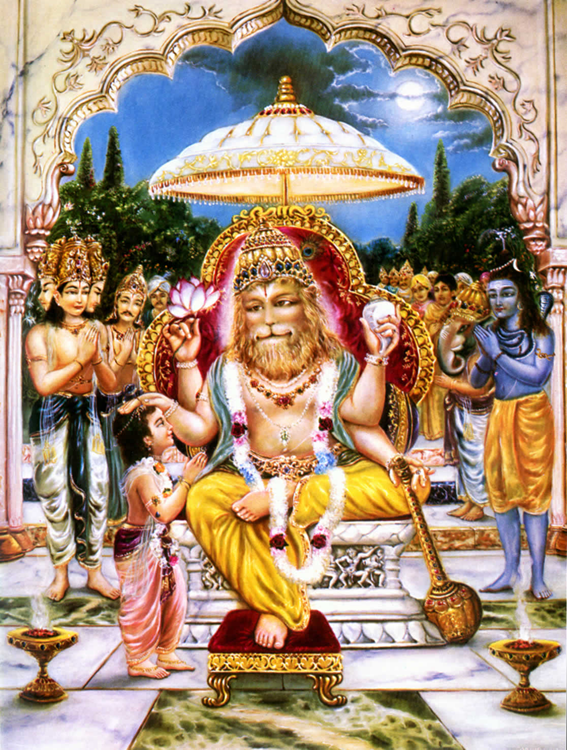 This pastime of Lord Narasimhadeva shows his parental love for his devotees. He is non different from Lord Krishna. He also proves his statement in Bhagwad Gita that he always protects his devotees. Therefore this auspicious occasion is celebrated with great Joy because this was the day when Lord Narasimhadeva appeared on this land to kill Hiranyakashipu and made free from his demonic atrocities.
Mangal Aarti
The Day Started with the auspicious darshan of the dieties from Lila Purushottam Pr's ashrama at House no. 664, IIT Kanpur along with Mangal aarti prayers, Nice kirtan and Tulasi aarti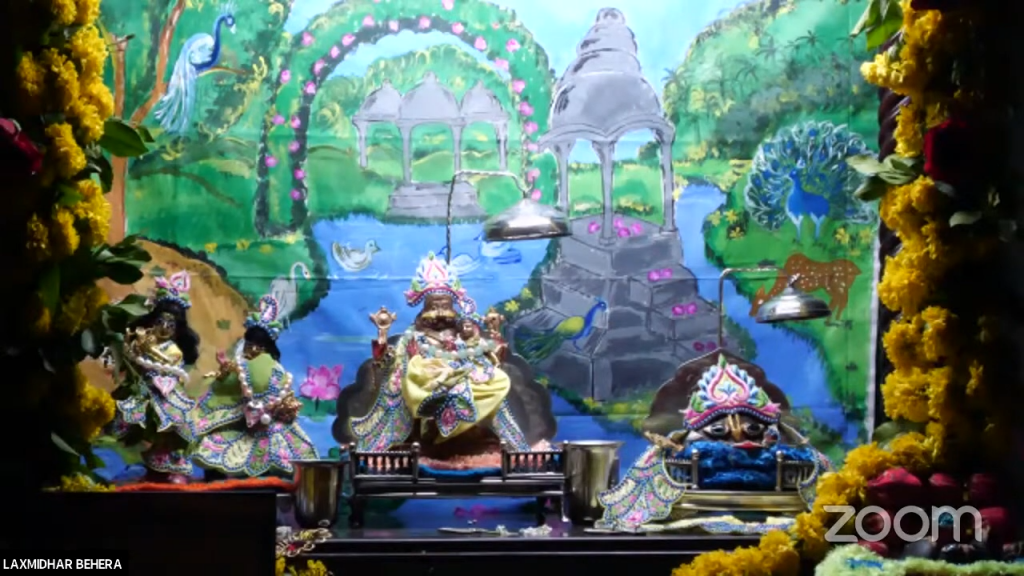 Chanting Session
The Chanting session started at 6:00 am where around 200 devotees gathered from different parts of the globe and chanted the Hare Krishna Mahamantra together. Many different devotees lead the chanting session for one round of beads and glorified the holy name for 1 minute. The Chanting Session started with Dr. Suvendu Samanta's chanting on behalf of Bhaktivedanta Club IIT Kanpur, followed by HG Madhusudan Mukund Das on behalf of ISKCON Ranchi, Dr. Ranjan Behera on behalf of BVC IIT Patna, HG Radhakant Das from BGIS Vrindavan, Akshaya Nayak from IIM Indore, and later by HG Lila Purushottam prabhuji himself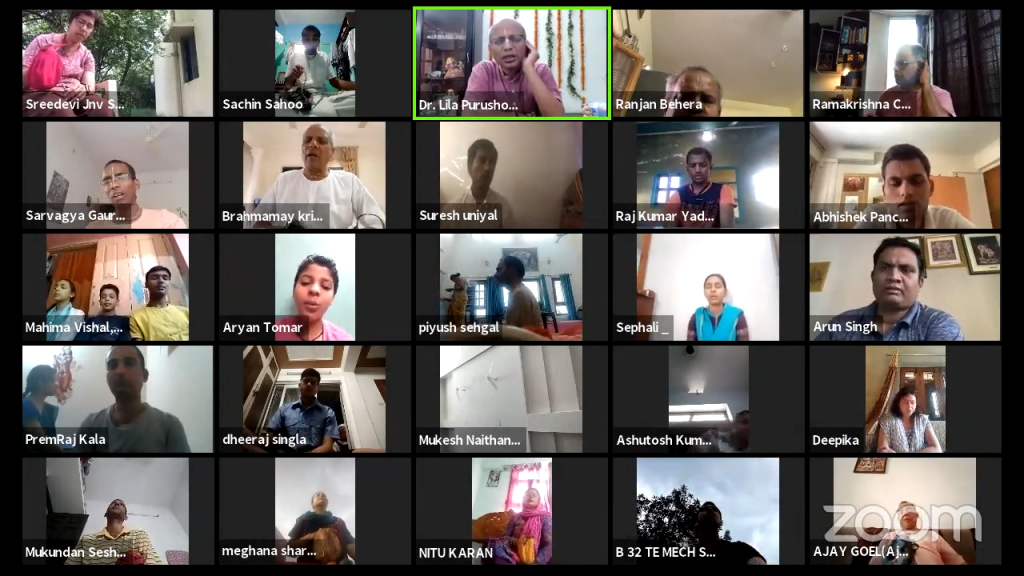 Mahabhishekam of Narsimha Deva

This was one of the most awaited parts of the celebration. Everyone witnessed the Abhishekam of the beautiful divine nectarean form of Lord Narsimhadeva from Lila Purushottam pr's house at IIT Kanpur along with the melodious kirtan from ISKCON Ranchi, BVC Nankari, ISKCON Dehradun, and the verses of Brahma Samhita with full fervor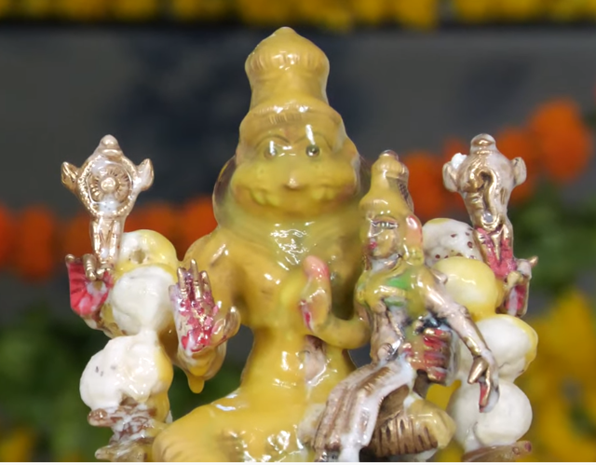 Narsimha Katha